Dayuse Business optimizes your business travelers' productivity while ensuring their safety and comfort
More than one million bookings have been made on Dayuse.com since its launch in 2010
Booking a hotel room during the day
The best solution to tackle the most common challenges faced by business travellers during their trips.
Dayuse Business solutions
Innovative hospitality services available for your business travel programs
Dayuse Business solutions can meet all your one-off or recurring needs for your business trips, in all main cities and world capitals.
To work
Comfortable, secure and well-equipped workspaces when you need them
To meet
Elegant and spacious suites for professional appointments with complete confidentiality
To rest
A power nap or a refreshing shower before an important meeting or between two flights
Optimize your ROI on travel expenses with a hotel room during the day!
Your business travellers are often faced with counter-productive challenges when travelling. These issues greatly reduce the return on investment for the travel expenses incurred.
A survey published in 2014 by GBTA entitled: "Business Traveller Study: the cost of mishaps" shows that on average during a flight delay or cancellation, the time wasted and spent not working represents a loss of income for the company estimated at €550 per person per trip. This amount can be doubled when the trip takes place abroad.
Providing your business travellers with a hotel room during the day means supplying them with the comfort and security of a well-equipped and confidential workspace where they can gain in productivity.
The Dayuse Business platform
A set of tools and features created by professionals* which are compatible with your existing work environment. Access all Dayuse solutions with just a few clicks.
Customized search engine according to your travel policy or frequent travellers' needs
An ergonomic portal with a simple and user-friendly search engine
Customized unique access according to roles (traveller, approving manager, travel arranger)
Payment methods tailored to your requirements: on-site payment, virtual cards (Air plus, Amex, BNP)
Experienced and multilingual customer service available for you
Reporting tools to manage Dayuse expenditure by department, travellers, destinations…
*The Dayuse Business platform is based on CDS Group's technology and expertise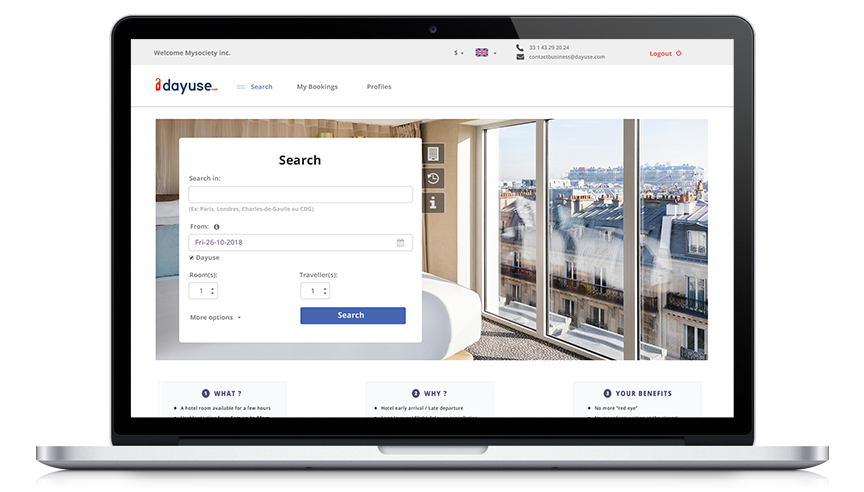 Dayuse Business Network
Dayuse business has partnered with the world largest hotel groups, allowing us to guarantee the same quality of hospitality, service, and facilities whatever your destination needs.